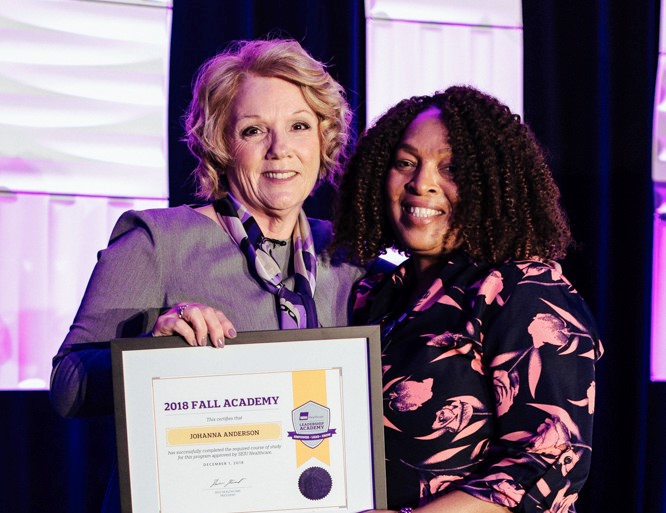 Joana Anderson is a personal support worker (PSW) at Maynard Nursing Home in Toronto and steward with SEIU Healthcare. Having attended the organizing your workplace stream at the Fall Academy, she shares how her educational experience has been a positive influence on her stewardship.
"Until I saw how encouraging my facilitators and inspiring my groupmates were in class, I didn't realize there was more to our union than a place where I simply hold the title of 'steward.' Now, I feel motivated to strengthen my union engagement and workplace activism," says Joana.
She also highlights the ways in which she applies the various techniques she learned when interacting with other members.
"When I want my colleagues to sign a petition, I try to convince them of its benefit, using my 'introduction' to connect with them meaningfully and emphasize the petition's urgency. By insisting upon these discussions, they start feeling less hesitant to oblige.
"I also make sure to 'Affirm, Answer, and Redirect' (AAR) our discussions regarding their workplace-related questions and concerns, and speak in a 'Clear, Concise, and Concrete' (CCC) manner about the ways in which their union can support them through their issues."
Above all, she explains that in order to effectively advise her colleagues on how to engage with their union and face management, she fully absorbs her colleagues' stories by allowing them to talk more frequently than she does, while she listens to them carefully.
"I can tell they take our conversations seriously by how many questions they ask. It means they genuinely want to learn about their rights and get involved for everyone's benefit," says Joana.
Though she confirms her communication efforts help her colleagues become more confident about signing petitions and filing grievances, Joana nevertheless believes they still feel apprehensive about the amount of confrontation taking place with their employer recently.
To assure them that such confrontation is necessary, Joana says she reminds her colleagues of important bargaining dates in 2019 and that because the healthcare industry is undergoing change, they need to focus on preparing their proposals now so that their needs are not left behind.
As for herself, Joana hopes to continue exploring her union's other involvement opportunities in the future, including "door-to-door canvassing with Team Up."
She would also like to see other members apply for the Leadership Academy in order to enhance their communication and teamwork in the workplace.
"The Academy definitely taught me to be firmer in representing my co-workers as a steward and presenting my case to our managers. It's normal to feel afraid at first, but there comes a point where you must push through to accomplish your goals."