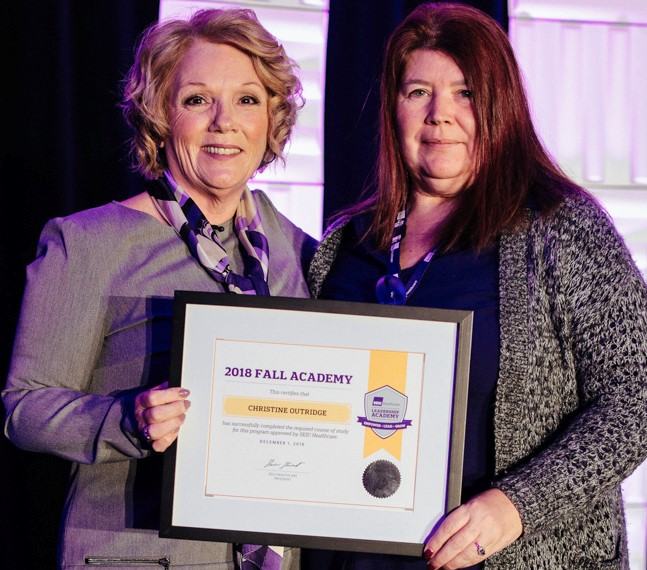 Christine Outridge has been a personal support worker (PSW) at Grace Villa Nursing Home in Hamilton since 2005 and is a chief steward with SEIU Healthcare. The Fall Academy was a very important experience for Christine as she needed the support of her fellow members after the passing of both her mother and aunt around Remembrance Day.
"My heart and mind were so badly broken, to the point where I almost cancelled my enrollment in the Academy. But I knew being with my amazing sisters and brothers would help me open my mind and learn what I need to for bargaining in 2019 with my co-workers and SEIU Healthcare," says Christine.
Christine says that having the opportunity to speak privately with the on-site mental health counsellor gave her the courage to discuss her personal feelings about work and life.
She notes that she also appreciated the mandatory mental health training program on the first day because it motivated her to start introducing mental health education in her workplace:
"Learning about the importance of mental health was challenging yet inspiring. I decided to take the initiative and speak with management about educating our staff on why we need to create dialogue around self-care for a healthier work environment. They were very open to the idea."
Regarding her specific stream, organizing your workplace, Christine shares how she learned to be mindful of her approach when providing support to her co-workers in workplace activism.
"Our excellent facilitators motivated our class to participate in role-playing that simulated communication between ourselves and our co-workers. The way in which you respond to their needs using your listening skills and union knowledge really makes all the difference."
Christine explains that in order to be the best chief steward possible for her co-workers, she wants to remain active in as many areas of the labour movement as possible and engage even more members in workplace advocacy.
To start, she reveals that she has made plans with her new union representative to enhance the format for general membership meetings (GMM), as well as with one of her new stewards to get co-workers involved in addressing upcoming workplace issues, namely bargaining.
However, activism is a two-way street, and Christine believes, "there is never enough engagement," when it comes to the membership. If we are to strengthen our voice and make meaningful change in healthcare, she stresses that members need to be more passionate about union involvement.
"Movement happens when we unite and make things happen," she says.
Since the Leadership Academy is a platform that reinforces such values, Christine urges new faces to use the opportunity as their first step into the labour movement:
"The Academy teaches you the importance of being part of a union—being able to share your passion and positivity with your sisters and brothers—and how everything you do to improve workers' rights makes saving the healthcare industry truly worth it."